cara® Print 4.0: 3D Printer for dental appliances
Accelerate your production, maintain quality
cara Print 4.0 allows you to accelerate the production of high-quality polymer-based dental applications. With an X-Y resolution of 53.6μm and a variable layer thickness (i.e. Z-axis resolution) of 30-150μm, you can quickly achieve the accuracy requirements for all polymer-based restorations.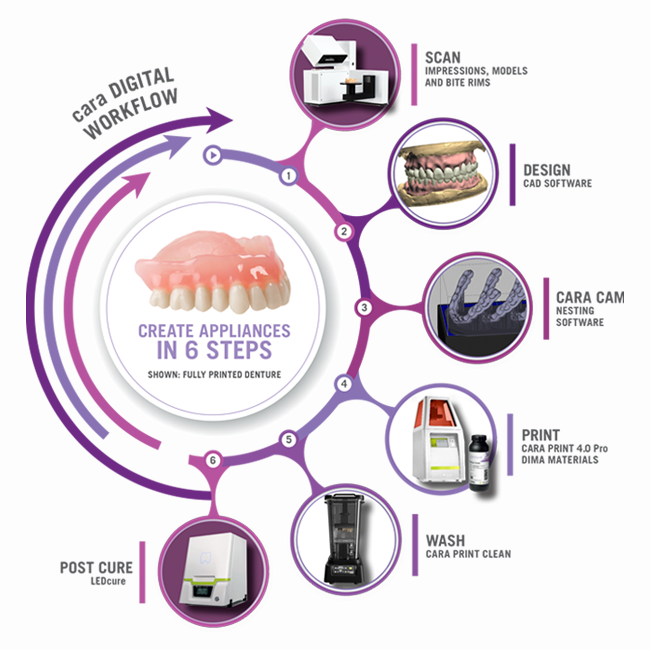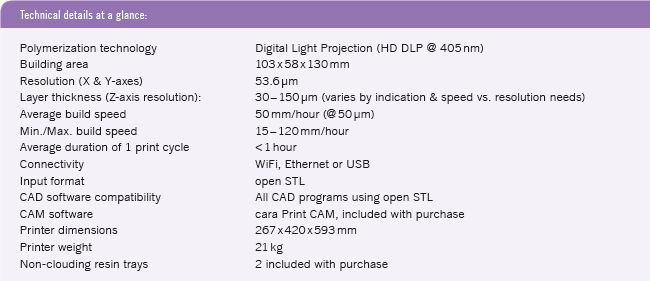 Digital Light Projection (DLP) vs. Laser
Digital Light Projection makes cara Print 4.0 quicker, more economical and more accurate than laser light technology. cara Print 4.0 can deliver highly uniform and aesthetic surfaces that are unattainable using laser technology.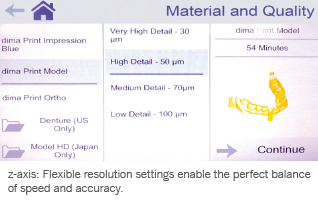 Laser-based resin 3D printers have to 'trace' each layer, point for point, line for line. With its DLP technology, on the other hand, cara Print 4.0 can project an entire layer in a single flash and achieve a finer level of detail than with laser. This means greater precision, faster production and smooth, homogeneous surfaces.
Automatic Speed Adjustment
Unlike many other 3D printers, cara Print 4.0 automatically adapts print speed according to the accuracy requirements of the current layer, often reaching speeds in excess of 100 mm/hour (e.g. when printing temporary support structures).Variable layer thickness (30 - 150 μm)
The ability to vary layer thickness means that you can select the optimal balance of accuracy and speed. This makes it possible to optimize the process for appliances that don't have high accuracy requirements (e.g. impression trays) by increasing the layer thickness and thereby reducing build time.