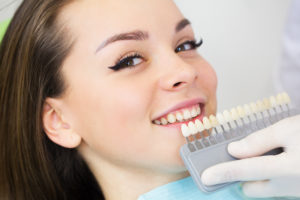 Your patient's satisfaction is our top priority. If they are not happy with the colour of their restoration you won't be either. We offer two ways to ensure the best result for your patients.
In-Lab Custom Shade
One option is to have your patient come to our office and have us match the colour and stain right in our office. This allows the patient to have direct input with the people who will be creating their restoration.
Custom Staining Service
If a visit to our office is not an option we will do our best to get the colour just right from the information provided by your office. If you or your patient is not happy with the results for any reason we will come to your clinic and perform chair-side staining or shading if needed.
Get in touch with us!
Have any questions about how your office or your patients could benefit from our dental restorations? Contact our friendly staff at (403) 286-5539, and get the answer you need today.